The late singer, songwriter, and pianist Barry White was one of the most influential artists in American music history. He is often referred to as "The Godfather of Soul".
Barry White was a talented singer, songwriter, and musician. He is known for his soulful voice and romantic ballads. His songs have been covered by many artists including Michael Bolton, Aretha Franklin, Ray Charles, Elvis Presley, Frank Sinatra, The Four Tops, Marvin Gaye, Otis Redding and more.
If you say the name Barry White, you'll have a hard time thinking of another music artist with such a large, diverse fan base. He may be found on Soul Train, on The Today Show with a full band, and in numerous episodes of The Simpsons as a cartoon character. Dinah Shore dedicated an hour of her daily syndicated Dinah! program to White in the 1970s. While Barry White wasn't producing songs or charting on the pop charts for a while, he was still touring and featuring on other artists' records, such as Quincy Jones' "The Secret Garden (The Seduction Suite)," Regina Belle's "All of Me," and rap singer Big Daddy Kane's "All of Me." It's shocking to learn that White nearly didn't have such a successful career because he didn't want to be a recording artist.
Barry White grew up in Galveston, Texas, singing gospel music with his mother and teaching himself to play the piano. White made his music debut at the young age of 11 on Jesse Belvin's "Goodnight My Love," shortly after relocating from Texas to South Central Los Angeles. With a group named the Upfronts, he recorded his debut album when he was 16 years old. Lummtone Records, a small L.A. label, released the song "Little Girl." Later, he worked for a number of indie companies in Los Angeles, eventually obtaining an A&R job with Bob Keane, the man behind Sam Cooke's first pop records. In 1966, one of his labels, Mustang, was hot with a band named the Bobby Fuller Four. White was recruited for $40 a week to work as A&R for Keane's Del-Fi, Mustang, and Bronco labels. During this period, White toyed with the notion of becoming a recording artist, recording "All in the Run of a Day" for Bronco. However, he decided to continue with his A&R responsibilities. The Versatiles, who subsequently changed their name to the 5th Dimension, were one of his first groups with which he collaborated. Viola Wills' "Lost Without the Love of My Guy," which reached the Top 20 R&B chart, was White's first major success. His weekly pay was increased to $60. White began his career as a member of the Bobby Fuller Four. Bob Keene and Larry Nunes, White's spiritual adviser and close friend, wanted to put together a female act. Felice Taylor was a vocalist that White had heard of. "It May Be Winter Outside," "I'm Under the Influence of Love," and "I Feel Love Coming On" were all successful singles for them. They were a big success in the United Kingdom. White began working for $400 per week.
When Bronco went out of business, White started his own production company. White was going through a rough patch at the time. Gene Page, who would later arrange or co-arrange many of White's songs, aided him by providing him with employment and non-repayable loans. Three years later, Paul Politti, another Bronco employee, contacted him to inform him that Larry Nunes was interested in partnering with him to establish a company. Nunes has begun recording songs for his next concept album. Meanwhile, White had begun working with a female trio that had never sang professionally before. They practiced for almost a year. "Walkin' in the Rain (With the One I Love)" was written by White, and the lyrics were inspired by a discussion with one of the vocalists, Glodean James (who would eventually become White's second wife). Love Unlimited was the name given to the group by White.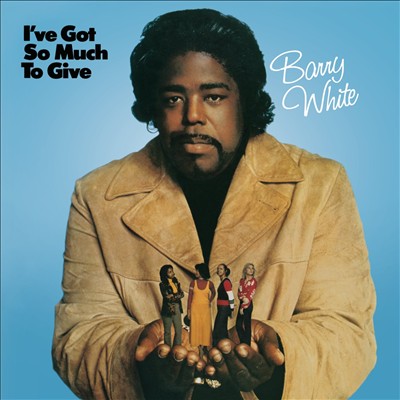 Larry Nunes sent the album along to Russ Regan, the head of MCA's Uni label. From a Girl's Point of View, published by Love Unlimited, became a million-seller. Regan soon left Uni to work at 20th Century Records. White's relationship with Uni deteriorated without Regan. White felt he needed to deal with another artist since his relationship with Uni was in shambles and Love Unlimited was under contract with the label. He wanted to collaborate with a male artist. He recorded himself singing and playing the piano in three songs. When Nunes heard them, he insisted on re-recording and releasing them as a solo artist. They fought about it for days. Then he managed to persuade White to do it. White was still on the fence when the label copy was produced. He intended to release the album under the moniker "White Heat," but it became the first Barry White album. I've Got So Much to Give, released by 20th Century Records in 1973, was his debut album. The title tune and "I'm Gonna Love You Just a Little More Baby" were featured.
Love Unlimited had a Uni release, and they joined White at 20th Century Records. Then he had another idea for a theme album. He expressed his desire to record an instrumental album to Regan. Regan felt he'd lost his mind. The Love Unlimited Orchestra was White's idea. The song "Love's Theme" reached number one on the music charts, sold over a million copies, and was a worldwide hit. He won a BMI award for the song, which has been covered over three million times.
From 1974 to 1979, the Barry White Hit Train was unstoppable: his own Stone Gon, Barry White Sings Love Songs for the One You Love ("It's Ecstasy When You Lay Down Next to Me," "Playing Your Game Baby"), Let the Music Play (title track, "You See the Trouble with Me"), Just Another Way to Say I Love You ("I'll Do for You Anything You Want Me To," "Love Serenade"), Just Another Way to Say I Love You He also composed the music for the 20th Century Fox picture The Together Brothers, which has just been re-released on DVD.
Ray Parker, Jr. (pre-Raydio, co-writer with White on "You See the Trouble With Me"), Nathan East, Wah Wah Watson, David T. Walker, Dean Parks, Don Peake, bassist Wilton Felder of the Crusaders, Lee Ritenour, drummer Ed Greene, percussionist Gary Coleman, and later keyboardist Rahn Coleman were among the members of his studio band. His hit streak appeared to go on forever. Then everything went wrong. Russ Regan and another buddy, Hosea Wilson, departed 20th Century Records, leaving White with management he didn't think was very good.
White departed after completing his contract by releasing two more albums, My Musical Bouquet by Love Unlimited Orchestra and his own I Love to Sing the Songs I Sing. White has secured a contract with CBS Records' bespoke label. It was hailed as one of the most significant transactions in history at the time. He founded the Unlimited Gold record label. White, Love Unlimited, the Love Unlimited Orchestra, Jack Perry, and Danny Pearson, a teenager vocalist who peaked with the song "What's Your Sign Girl," were all on the roster. Barry & Glodean, a duet CD with Glodean James, was also released. The majority of the albums, with the exception of the gold record The Message Is Love, did not sell well. White chose to take a sabbatical after eight Barry White albums, four Love Unlimited albums, four Love Unlimited Orchestra albums, continuous traveling, and coping with the rigors of the music business.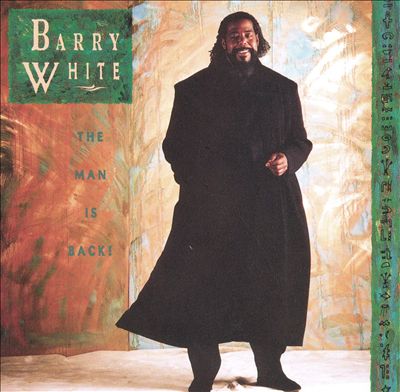 The Man Is Back, The Right Night & Barry White, and Put Me in Your Mix were released in 1992 after White joined with A&M Records (which contains a duet with Issac Hayes, "Dark and Lovely"). The Icon Is Love went multi-platinum and became his best-selling album since the 1970s. The platinum hit "Practice What You Preach" is included. Gerald Levert and Tony Nicholas, his godson Chuckii Booker, Jimmy Jam and Terry Lewis, and White and his old buddy Jack Perry are among the producers. While White's vocals were buried in whiz-bang electronic effects on subsequent albums, his deep steam engine baritone pipes remain front and center on The Icon Is Love. Staying Power followed in 1999, showcasing the vocalist and the song in the finest style of soul music. White won two Grammys for the album. With 106 gold and 41 platinum albums, 20 gold and ten platinum singles, and global sales in excess of 100 million, White's career carried him from the ghetto to international stardom.
In September of 2002, White, who had hypertension and persistent high blood pressure, was admitted to the hospital with renal failure. He was on dialysis, but the mix of diseases proved too much for him, and he died at a West Hollywood hospital on July 4, 2003. Barry White had attained near-universal praise and fame by the time he died, something that few musicians accomplish, and even fewer achieve in their lifetime.
Barry White was an American singer, songwriter, and actor. He is best known for his distinctive bass voice. Reference: barry white let the music play.
Frequently Asked Questions
Did Barry White write songs?
Yes, he did.
What nationality is Barry?
Barry is an American.
Was Barry White His real name?
Yes, his real name was Barry White.
Related Tags
barry white funeral
barry white family
when and where was barry white born?
how old was barry white when he died
how many children did barry white have