A new movement in the music industry is creating a more personalized experience for listeners.
Biography, Songs, & Albums is a website that allows users to listen to songs about their favorite celebrities. The site has biographical songs about your favorite celebrities.
Can, a well-known German rock band, pioneered an improvisatory approach to the genre, putting textural experimentation and rhythmic interaction ahead of pop melodies. Despite their avant-garde classical and jazz backgrounds, its members embraced the intensity and hypnotic rhythms of funk and psychedelic rock, resulting in a spontaneous but highly disciplined style of groove-heavy experimental music. Can's albums were usually distilled from long, intensive studio improvisation sessions, comparable to Teo Macero's editing methods on Miles Davis' late-'60s work, and the results varied from expansive sidelong epics to tunes powerful enough to be issued as 45s, even reaching the pop charts twice. Can's first album, Monster Movie, was led by American singer Malcolm Mooney, but Japanese vocalist Damo Suzuki joined the band for many of their most famous albums, including Tago Mago (1971) and Ege Bamyasi (1972). (1972). On 1976's Flow Motion, the band experimented with disco rhythms, while subsequent albums featuring former Traffic members Rosko Gee and Rebop Kwaku Baah explored Latin rock and fusion elements. Can officially dissolved in 1979, with all of its members focusing on individual projects and other endeavors, but they re-formed for recording sessions and concerts on a regular basis for the next two decades, with Rite Time, a reunion album with Mooney, issued in 1989. Many alternative and experimental artists have covered, name-checked, or composed songs in homage to Can, including Radiohead, the Fall, Public Image Ltd., and the Jesus and Mary Chain, while the 1997 remix compilation Sacrilege showed the group's effect on ambient and electronic music. Several compilations of previously unreleased Can material, notably the 2012 box set The Lost Tapes, have emerged in addition to several reissues and anthologies.
In 1968, free jazz drummer Jaki Liebezeit and guitarist Michael Karoli started collaborating with keyboardist Irmin Schmidt and bassist Holger Czukay, both former pupils of renowned avant-garde composer Karlheinz Stockhausen. The Cologne-based band, formerly known as Inner Space, produced one song and composed soundtracks for the films Agilok & Blubbo and Kamasutra (both of which were eventually released 40 years later). David C. Johnson, a flutist and electronic musician, joined the group early on but left shortly after, dissatisfied with the increasingly rock-oriented path their music was going. Malcolm Mooney, an African-American visual artist and poet, was the band's original lead singer. His surrealist mantras and erratic energy influenced the group's music significantly. They changed their name to the Can (which has good meanings in many languages) at his suggestion, and their first album, Monster Movie, was released in 1969. "Yoo Doo Right," a 20-minute tune allegedly cut down from a six-hour session that only ended when the amplifiers began burning, took up the record's second side.
Mooney returned to America after having a mental breakdown, according to reports. Damo Suzuki, a Japanese busker renowned for his free-form, highly dynamic singing style, joined the group in May 1970, shortly after they reduced their name to Can. Suzuki made his debut on the album Soundtracks, which included two of Mooney's last performances before his departure. The 1971 double LP Tago Mago (their first for United Artists Records) was preceded by the non-album single "Turtles Have Short Legs," an audacious combination of improvisational rock, funk rhythms, and musique concrète editing methods that remains the group's most highly acclaimed work. The song "Spoon" reached the German Top Ten after being used as the theme for the TV serial Das Messer (The Knife), while "Vitamin C" became the band's trademark tune owing to its simple catchiness and subsequent exposure in numerous films and series. Suzuki's last album with Can, Future Days, released in 1973, was less powerful and more atmospheric than their earlier albums, yet it was still fascinating.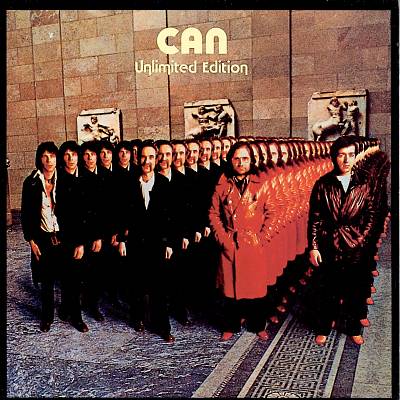 Suzuki quit Can after the Future Days sessions, married his fiancée, became a Jehovah's Witness, and took a break from music for a while. The band searched for a new singer but were unable to find one, so Karoli and Schmidt shared vocal responsibilities. Limited Edition (later extended to Unlimited Edition) was released in 1974, one year before the studio album Soon Over Babaluma, which was a more aggressive effort than Future Days. After that, Can was signed to Virgin Records in the United Kingdom. In 1975, EMI/Harvest in Germany significantly improved their recording equipment (from two to sixteen tracks) and released the more professional-sounding Landed. Flow Motion, released in 1976, was strongly inspired by disco and reggae rhythms, and its song "I Want More" unexpectedly entered the Top 30 in the United Kingdom, earning it a spot on Top of the Pops. With the arrival of drummer Rebop Kwaku Baah and bassist Rosko Gee, both former members of Traffic, in 1977, Can proceeded to alter their direction. Czukay left the band after Saw Delight, and the younger members had a bigger role on 1978's Out of Reach and 1979's Can (aka Inner Space), which mixed Latin rock, fusion, and disco elements.
Can disbanded at the end of the decade, although its members continued to perform as solo or studio musicians, with Czukay and Schmidt penning a number of albums, soundtracks, and theatrical works. Delay 1968, an early session released in 1981, was one of many collections and archive releases. At the end of 1986, the group's original lineup, including Mooney, reassembled in France for a series of recording sessions. The album Rite Time was published by Mercury in 1989 after considerable editing. In 1991, the band recorded "Last Night Sleep" for Wim Wenders' film Until the End of the World's soundtrack.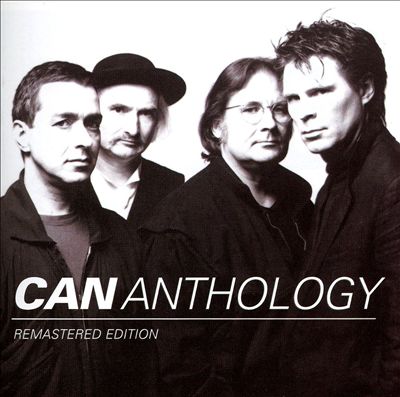 Can's career-spanning Anthology was released in 1994 to commemorate their 25th anniversary, and The Peel Sessions, a collection of non-album material recorded for John Peel's BBC Radio 1 shows throughout the 1970s, was released in 1995. Mute published Sacrilege in 1997, which included remixes of Can songs by a variety of ambient, techno, and alternative musicians (including the Orb, Sonic Youth, and U.N.K.L.E.). In 1999, Karoli, Liebezeit, and Schmidt collaborated with Jono Podmore on a rendition of "The Third Man Theme," which was included on Grönland Records' cover collection Pop 2000, attributed to Can. In 1999, Box, a limited edition 30th anniversary package comprising a film and two CDs of live recordings, was released, and the discs were released separately as Music (Live 1971-1977).
Michael Karoli passed away on November 17, 2001, from cancer. In 2003, Mute published the Can DVD, which included a documentary and a live performance as well as a CD of the members' individual work. In 2004, Mute began an ambitious Super Audio CD remastering effort of the band's entire catalog. The Lost Tapes, an enormous box collection culled from over 50 hours of unheard studio outtakes and live recordings, was published by the label in 2012. Both Jaki Liebezeit and Holger Czukay died in 2017. The Singles, a self-explanatory collection, was released the same year.
The can discography is a command-line tool that allows users to search and download album, song, and biography information from the iTunes Store.
Related Tags
famous biographical songs
autobiographical songs
can allmusic
autobiographical rap songs
autobiography